This post may contain affiliate links. Please refer to our Disclaimer for more info.
Struggling to find new and unique small business ideas to work from home this year?
Fear not, I've got you covered!
Maybe you've found yourself unemployed during the pandemic. Or you've been thinking about quitting your job for some time.
And maybe you just want to start a side hustle for extra income?
Perhaps you've been dreaming about walking out those office doors for awhile and finally want to make it happen?
Whatever it may be, I've created a list of unique small business ideas that are interesting and will help to spark some creativity to help you make the right decisions for you.
Some important things to consider before starting a business from home are:
Startup costs – What do I have to work with?
Work/life balance – How much time can I put into my business?
Skill level and experience – What skills do I have or need to learn?
Money vs time – Do I have more money or time to work with?
Interests – Where do my interests and passions lie?
Good income – How much do I want to earn and can it replace my full time income?
1. Blog for Business
You may be groaning at the thought of blogging and thinking this is not a new and unique idea in 2023. I get it! However. The reason this one is at the top of the list is because it is still a fantastic way to earn money online.
Blogging has changed a lot over the years, there are more blogs than ever with new websites being created every single day.
But don't let that put you off. The reason I say this is because everybody is individual and can create something that is unique to themselves and to their audience.
You can bring something different to the table that others around you cannot. Using your own personality and life skills you can build your own personal brand through your blog.
It's important to think of a blog as a business and not a hobby as it once was, this advice is outdated.
This doesn't mean you can't enjoy your work, it simply means that just writing about your passions and interests aren't enough in 2023.
There are many ways you can monetize your website, such as display ads, affiliate marketing or selling your own products and services.
However, when you're just getting started it's important to focus on high quality, engaging content.
Blogging has changed my life and was everything I didn't know I was looking for!
Curious about starting but haven't got a clue what to blog about? Don't stress! You can check out my legendary list of blogging ideas to help you get started!
Or, if you're ready to take the plunge with starting a blog, I will show you step by step how to set up your blog from scratch here.
2. Set up a Glamping Rental Business on AirBnB
This unique small business idea is a pretty exciting one!
I've found that a lot of folk want to find unique and fun getaways, especially but not only people from big cities like New York, LA etc.
And if you head over to AirBnB you will find that glamping rentals are very popular. Some of these are rented out for a couple of hundred dollars a night. And if you set one up yourself you have the potential to make six figures a year with these popular rentals.
But I don't have a tent, an RV, or land to rent out, I hear you cry. Don't worry! There are plenty of channels and videos on YouTube that show you how to set up your own rentals on AirBnB.
Basically your options are renting some land, leasing some land, or if you have a bit of cash you can buy some land outside of a popular national park. These are your best options for lower costs with the glamping set up.
Once you get up and running it's likely you will see bookings start to come in really quickly. And the profit margins for this type of business can be up to 80% which is incredible! The downside to this business model is it can take some time to set up. Especially if you want to do it properly and do it right.
We think this is a pretty unique and exciting business opportunity that, if you have the time and the means to set up can be one of the best side hustles out there!
3. Start a Microgreens Business
In the past year or so I've noticed a lot of people on social media growing their own microgreens like herbs, sprouts etc. This is probably partly due to the pandemic and not being able to get supply during lockdowns.
And I thought well this could be a cool little business to start from home!
This unique small business idea is especially good if you have some spare room in or outside your house to grow these microgreens. And it can be done from pretty much anywhere in the world.
People have become even more health conscious since the pandemic started, and are focusing more on healthy eating and good nutrition. When supermarkets aren't easy to get to or prices are bumped up, this is where you can offer your goods at a competitive price.
There are many YouTube tutorials you can check out that show you how to grow your own microgreens to help you get started.
Some of the most popular and sort after microgreens are:
Broccoli microgreens
Sunflower microgreens
Pea microgreens
Radish microgreens
Cress microgreens
In terms of marketing and growth, I would start small and scale over time. You could join Facebook groups or create your own to market your microgreens in a natural and authentic way. You could start a blog dedicated to content that's all about growing your own food at home and healthy living.
Instagram would be a hot spot for marketing this sort of business as well, creating reels, stories and beautiful images of your microgreens.
Another way to get yourself out there is by heading down to your local markets and setting up a small stall to sell your microgreens.
4. Start a YouTube Channel
Starting a YouTube channel is easy. You jump onto YouTube, you create your account, you upload some videos and BOOM! You're on YouTube.
However, how hard it is to grow and monetize your channel is a different story. Let's take more of a look at this part.
Firstly, to start making at least $100 a month from your YouTube channel, you will need 1000 subscribers and 4000 hours of watch time from your videos.
To get to this point it can take months and some serious hustling to get your first 1000 subscribers. It will be different for everyone.
This is the sort of online income you would need to stick at and put a lot of time and effort into (like anything worthwhile). You need to stick with it and be in it for the long term.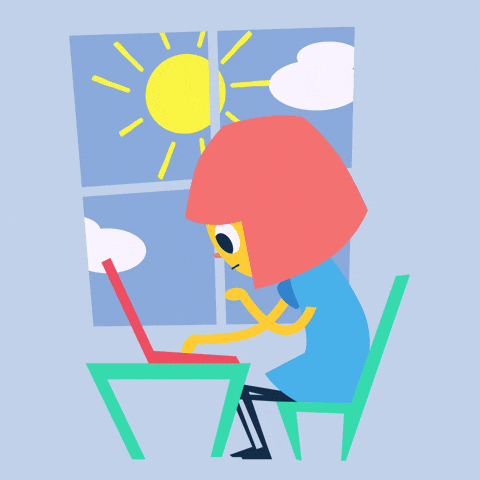 It is possible to have big success on YouTube, but all your focus, time and energy needs to go into your channel to get it earning decent money.
If you're willing to put in the hard yards at the beginning you can reap the rewards for months and years to come.
Starting and growing a YouTube channel is not going to be for everybody, but if you enjoy talking to a camera, sharing your ideas as well as editing and uploading videos then it's one to consider.
And if you don't want to put your face on camera there are so many other options for creating videos. Some of the types of videos that do well on YouTube are:
Tutorials
Funny video compilations
Fashion and beauty
Gaming
Product reviews
Music
Educational videos
Unboxing videos
5. Become a Virtual Assistant (VA)
With more and more businesses moving to the online world it makes sense that clerical staff are moving online with them. And this is exciting because there are more opportunities opening up for people wanting to become a VA.
Lets answer some common questions about becoming a VA.
How much can a VA earn?
A VA can expect to earn anywhere from $6.97 per hour to $59.86 per hour.
How does someone find their first VA job?
You may have heard of Upwork or Fiverr, which are both great places to land a job as a VA. However, it can be highly competitive when you're just starting out. All you need is that one person to say yes to your first job and you're good to go.
So how do you do that?
First, create a killer resume listing your skills and experience in your relevant field. If there are VA jobs you have your eye on but don't yet have the skills they need, there are many online courses to get educated. Udemy have a huge range of courses in just about every area of expertise you can think of.
Second, choose your employer carefully. Create a profile on a credible online job site that is an exact match for your skillset. This way, you will find your first job to be what you were looking for.
Thirdly, make sure you are charging the correct hourly rate for your services. Research what other VAs are charging in your field and ensure you are not asking for too much or too little for your services.
6. Make Money Providing Pinterest Services
If you enjoy graphic design and more specifically, designing pins for pinterest, then you can sell these types of services to online businesses who use Pinterest for business.
Here are some of the services that these types of businesses would need:
Creating and designing pins for their website
Helping individuals set up their Pinterest business account
Scheduling of pins to post to align with Pinterest's algorithm
Creating Pinterest ads
Using free tools like Canva to choose pin templates to create your pins will make life a lot easier.
There are also many tutorials out there on how to run Pinterest ads so you can learn a new skill and start charging for it. Click here for helpful resources and learn all about Pinterest advertising.
7. Create an Online Course or Coaching Service
It has become easier to sell your knowledge and expertise via online course platforms.
If you are an expert in something then it's worth considering selling your know-how and making a good income in doing so.
You can offer online coaching classes to students and create an online community using facebook groups. Or you could start a podcast to reach people offering your services.
When you're offering a course online, the easy part is the technical side. You can easily film yourself on your phone with good lighting and a tripod. However, to be able to sell your course, it needs to be good.
One really great platform I recommend for selling online classes is Skillshare. You need to meet certain requirements to upload your classes on their platform, but that's a good thing.
There are too many scammers trying to make money selling courses using get rich quick tactics.
Skillshare is good because you can sell your courses indirectly. What do I mean by this?
If you think of a service you pay for, lets use Netflix as an example, you pay Netflix to access a range of movies and shows to watch. Similarly, someone who pays for a Skillshare membership can access your course and you get paid.
Providing real value to people and being authentic is not only what people want but what you will gain success from.
If you think you could offer your skills and knowledge to people then I highly recommend you check out Skillshare's Teaching Handbook.
Two alternatives to Skillshare are Thinkific and Teachable, two also really awesome online coaching platforms that help you to create, market and sell your own online course.
8. Start a Dog Sitting Business
Love dogs and have a lot of time on your hands? Then you might consider starting a dog sitting business which can be very rewarding.
People are often in need of a pet sitting service but don't want to pay high vet care fees. This is where you can come in and offer your services.
To start with you would need to set up a website, grab a domain name and market your services. You could create a facebook page and join facebook groups in the dog niche or start your own facebook group to gain exposure.
Before getting started, consider whether this type of business would be right for you. Are you responsible and compassionate and like to work alone? Do you love to get outdoors and be active? Considering these questions first should help you to realize whether it's something you want to commit to.
Some startup costs for a dog sitting business could include:
Business license and insurance
Computer, website maintenance and business software
Advertising costs
Pet sitters charge on average $25 to $30 per sitting, which depends on what services are included. The average cost of a 30 minute visit is $25, whereas sitting overnight may cost $75 $85. Let's take a look at some rates below:
National average cost – $25 to $30
Low end cost – $15 to $20
High end cost – $65 to $90
9. Write an eBook
Do you enjoy writing? Are you keen to make some cash on the side with writing eBooks? With access to cheap or even free self-publishing software, writing and publishing an eBook has become a lot easier than it once was.
Whilst writing and publishing eBooks alone can be difficult to make a full time income from, you can make some money on the side and so we recommend starting small, write for others to get your name out there before writing your own eBook.
Keep up with researching different ways to write, publish and market your eBook. If you keep at it and it's what you're passionate about then you have every chance to make it as an author and make a full time income from.
10. Sell on Etsy
Some trends we've seen particularly on Etsy and Pinterest are DIY crotchet and embroidery, leatherwork and glass etching.
These trends are picking up and if you're interested in a side hustle, you could learn a new skill and open a store on Etsy to sell your work.
To learn more about setting up an Etsy store, making your first sale and growing your business, we recommend reading this Seller Handbook which has all the information you need to get started.
Related post: 35 Best Things To Sell on Etsy To Make Money
11. Buy and Sell Flipping Business
Buying items and reselling them for a profit can be a lucrative business. To get started, you will of course need a little cash to purchase items you think will sell well for a profit.
Start by visiting thrift stores and flea markets and looking for items you can sell on facebook marketplace, for example.
Searching for unique items that are hard to find sell well, or you could look for items that are already trending and you know people are already looking for.
Some ideas for items in different niches in 2023 are:
Vintage clothing
Glassware
Adventure gear
Tea sets
Furniture
Exercise equipment
Musical instruments
Baby gear
Appliances
Books
Bikes
Jewelry
Sunglasses
Smartphones
12. Start a Podcast
Podcasting has become very popular and you can make big money in creating your own podcast.
In 2006, only 22% of adults listened to podcasts. Now, over 75% of adults in the US listen to podcasts.
Wondering how you can get started?
First up, you will need to plan your podcast episodes and look at getting your software and equipment set up.
Next, you need to sign up for podcast hosting. Podcast hosting is where a service stores your audio files and distributes them to the big networks such as Spotify, iTunes, Tunein etc.
To get started for free, you can sign up with Buzzsprout and get a free $20 Amazon giftcard.
13. Sell Custom Printed Merchandise
Creating a brand and selling your own custom made merchandise has never been easier. Products like mugs, t-shirts, stickers, bags, drink bottles and more are very popular.
There are great websites to choose from that will help you quickly and easily put your designs on merchandise to sell.
You can use Canva to create your own designs and then upload them to one of the following sites in just a few clicks.
Some tips when creating designs for merchandise:
Search Pinterest for inspiration on designs, see what people like and what's trending
Find a specific niche and focus on that, avoid basic designs
If you're a good designer, outsource marketing for your store
If you're a good marketer, outsource designing to somewhere like Fiverr
Don't just stick to one type of product like t-shirts or mugs, branch out
14. Sell Resume Templates
In the past when I've been job searching, I came across people selling resume templates on Etsy.
I thought to myself, what an awesome idea!
It's something that people are always searching for and need when they're applying for jobs.
You can easily create resume templates in Canva and sell them on Etsy.
15. Bookkeeping
There will always be people who need help with their business and personal finances.
Maybe you are an accountant or are interested in taking an accounting course?
Being a bookkeeper can be very flexible work, and you can easily set yourself up at home.
Given bookkeepers are always in need, the pay is usually very good too!
If you want to learn how to become a bookkeeper, here are some beginner friendly courses on Udemy you can take a look at.
Last Words
Hopefully by now you are feeling inspired and have unlocked some ideas to get started with your own unique small business from home.
I will be updating this list frequently as new business opportunities arise, and excitingly they always are!
Have you ever started your own small business? Are you running a successful business or feeling stuck at road blocks?
Let me know in the comments!
Liked this post? Be sure to follow me on Pinterest for more ideas!